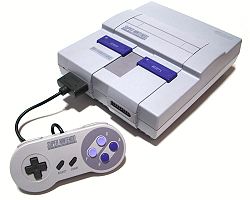 Back in May when the first videos started appearing of jailbroken iPads playing SNES games, it definitely piqued our interest as few things would have blown my mind more back when the SNES hit North America in 1991. (Actually, come to think of it, just seeing the iPad 19 years ago would be a mind-blowing experience in itself.) The emulator in question in the original videos, as well as the one capable of pairing with a Wii controller is snes4iphone, but if you'd rather have an emulator that runs natively, SNES HD will do the trick, you just won't have Wii controller support.
The entire guide itelf with a bunch of photos and links is over on Lifehacker, and they've also explained the whole thing in the following video:
Keep in mind that according to Apple "unauthorized modification of iOS has been a major source of instability, disruption of services, and other issues", and obviously the jailbreak community completely disagrees. Either way, the entire jailbreak process is entirely unsupported, so just be sure to do some research to make sure you know what you're getting in to before blindly mashing the "jailbreak" button in Spirit.
[Lifehacker via TUAW]