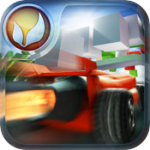 Late last week we reported that the new update to one of our favorite iPhone games, Jet Car Stunts, was in review and just waiting on Apple to give it the go ahead. Yesterday afternoon the update finally went live on the App Store, and as great as this news is for fans of the game, it also comes with some minor (temporary) disappointment.
First let's start with the good news, and that of course is the addition of 26 brand new levels that can be purchased within the app for $1.99. I've given the new levels a quick spin and they seem to be of the same high quality design as the original levels, and possibly even more so. There's no shortage of crazy jumps, loops, and even driving on ceilings in these new levels. Another nice feature is that the 8 levels that were previously exclusive to the lite version of Jet Car Stunts can now be downloaded for free in the full version. This may not be especially exciting to those who have played the lite version to death, but it's nice not having to have both icons taking up space on the springboard. Other improvements include iOS 4 support for anti-aliasing and fast app switching support for iPhone 3GS and 3rd generation iPod touches.
As for the not-so-good news, the graphical enhancement that would have brought retina display support for iPhone 4 seems to have hit a bit of a snag in its journey to the App Store. While the other iOS 4 features are working flawlessly, something seems to have gone awry with the part of the update that was to add the retina display support. All is not lost though, as the developer immediately sprang to action, found and fixed the problem, and has already submitted a new update to Apple – all within a matter of hours. If all goes well with the approval process, this extra eye candy should be available within the next week or so.

One other very cool bonus with this latest update is the addition of a cheat menu. This menu gives you the option of a couple different vehicle colors, as well as the ability to unlock every level without having to beat all the previous ones. This is great news if you want to dive right into the different tiers of levels, and while I won't completely divulge how to access the cheat menu, I will say it's pretty easy to find if you "poke" around the right screen within the game. With the 36 levels of the original, 26 brand new levels available as DLC, and the 8 levels from the lite version, all together 
Jet Car Stunts
has 70 available levels to test your platforming and racing prowess.