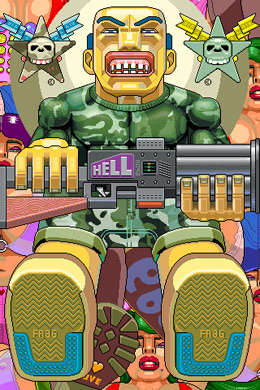 Last month we previewed the isometric 8-bit graphics puzzler eBoy FixPix [App Store] from eBoy / Delicious Toys. Heavy on the pixel art (in a very good way), the game challenges you to tilt your iPhone to and fro in order to arrange the various layers of the onscreen scene into a coherent view, in an exercise that should be linked in Webster's entry for the word "parallax." Tilt, tilt, score! is the name of the game here. It's one that gets definite points for uniqueness. The game went live in the App Store a few weeks back and somehow slipped past our radar.
I played through the game this morning and found it to be a charming title that's half puzzle game, half graphical toy. To win the game you must "fix" 100 scenes, but you are able to skip ones that are too mind-bogglingly difficult. (I noted that some of the skipped scenes did not repeat in my play-through, so there are more than 100 scenes provided in the app.) It's up to you to form the lovely pixellated scenes into full coherency, which is at times a particularly challenging task, and the reward is seeing the scene properly rendered.
I, personally, love 8-bit art and am highly impressed by what's presented here. Those who are not enamored of the style might find the experience wanting, however, as the game can be played from start to finish in under half an hour. I was pleased to see a link to some of the included 8-bit art as wallpaper on the victory screen.
Have a look at the developer's gameplay video to get a feel for the experience.
You can decide for yourself whether this is a game or a work of art. Whatever the case, eBoy FixPix is a very unique iPhone experience and I urge readers to have a look.