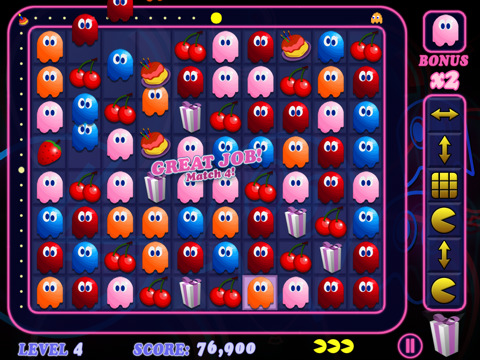 As we mentioned late last month, everybody's favorite little yellow dot-eating friend just turned 30. Namco marked the occasion with a sale on most of their App Store PAC-MAN titles. Earlier this month the studio further celebrated the occasion with the release of PAC-Match Party for the iPhone [App Store], a PAC-MAN themed match-three title. This weekend an iPad version of the game, PAC-Match Party HD [App Store] landed in the App Store.
Now, if I had a nickel for every match-three title in the App Store, well, I'd have quite a few nickels. But PAC-Match Party stands out from the crowd thanks to a few nice innovations — and it's not just the retro gamer nut in me, giddy about the PAC-MAN tile set and spacey retro soundtrack. No, it's a pretty solid game, retro aside — as far as match-threes go.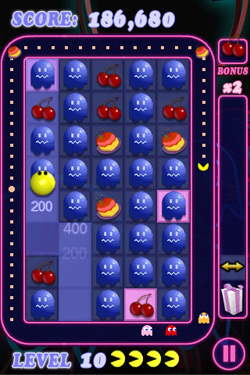 Being a match-three title, the core mechanic is swapping tiles on the playfield to line up three-of-a-kind eliminations. But the whole thing is set against a ghost chasing PAC-MAN in the playfield border. Every match causes PAC-MAN to gobble a dot and move one space away from the ghost in pursuit. It's just a fancy way to present a timed match, but it's nicely done. What's more, a column of bonus tokens appears to the right of the playfield that, when tapped, performs certain power moves such as a row + column elimination and a sort of ghost attack.
The iPhone version of the game features a 5×8 play grid, while the iPad version sports a 10×8 arrangement, taking advantage of the device's larger display.
My only real complaint about the title is that, when next-move hints are enabled, they appear after just five seconds of idle time. That's offering up the goods pretty quickly. They can be disabled, happily, but it would be nice if the wait period there were 2-3x longer.
Those wanting to get a feel for the title can check out the free, Flash-based web version that lives here.