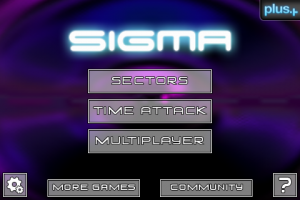 About two weeks ago we posted about a promising looking match-3 game called Sigma [$.99]. As a fan of the match-3 genre, I have been very much looking forward to playing Sigma after seeing the initial gameplay video. After a few weeks of waiting, I'm glad to say that Sigma does not disappoint and is truly unique. With the number of great match-3 games already in the App Store, it's amazing that one can still surprise you.
In Sigma, you have two independently rotating columns of square blocks on either side of the screen with a barrier in the middle. Tapping either side of the screen sends blocks back and forth across the screen and you can rotate each column freely for complete control over the blocks. The controls are very simple and smooth, and unlike other similarly structured games, it never feels tedious to reach any piece in the game. Your goal is to create vertical or horizontal matches of 3 or more blocks to score as many points as you can before completing the level. One cool feature is that after creating a match, you have a few seconds to add additional blocks to your shape in order to increase the score and earn more power ups.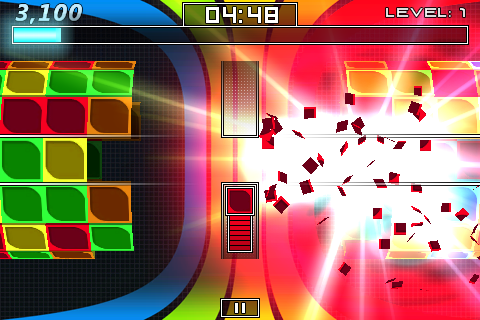 There are three modes in Sigma. In Sector mode, you want to fill up the progress bar by scoring and unlock the next Sector. Each difficulty mode includes up to ten different sectors, which are essentially different themes of the game each with its own music track. In Time Attack mode, you have either 1, 5, or 10 minutes to score as many points as possible before the timer runs out. Finally, in Versus mode, you play in a local multiplayer match over WiFi or Bluetooth.
Sigma is suitable for all skill levels as you can set your own pace. You are not under constant pressure to create a match, nor do you need to be lighting fast to do well at this game. There is always plenty of time on the clock to complete a level. However, for the hardcore players, Sigma also offers quite a bit of strategy if you choose to delve deep into it. The game awards different power ups for larger matches, so it's rewarding to take the time to create the 5+ sized matches.  Since you are not penalized for each move you make, you can setup elaborate and thought provoking situations. There are also multiplier combos awarded for creating multiple matches of the same color before the combo meter runs out. I believe I've only scratched the surface on the potential of strategy that can be involved in this game and I'm sure many players will rise to the challenge.
The leader boards and awards are provided by Plus+ to compete against the world. The leader boards rank you by the sum of all the sectors in a given difficulty level. This layout offers an advantage to the players who complete all the sectors and I feel provides a good averaged representation of the skill of the players on the rankings. Achievements are given for completing sectors, playing the different modes, and creating large matches/combos.

Sigma is a brilliant looking match 3 game of top notch quality. The developer says the $.99 price point is a limited introductory price and will rise to $2.99 soon. If you are interested in Sigma, it's a good time to get it, as this match-3 is very much worth it.
App Store Link: Sigma, $.99