The developers of Sally's Spa [$2.99] and Hottie Hookups [$.99] are about to release their newest game, Sigma. Entering a new category of games, BigStack Studios has created a marvelous looking match-3 game.
Using multi-touch, you can independently spin two columns of blocks on either side of the screen. Tapping either side of the screen sends blocks back and forth across the screen. Once a match has been created, you'll have a couple of seconds to tag additional blocks on to the cluster before the whole thing explodes. Overall, it reminds us of an enhanced version of Unify.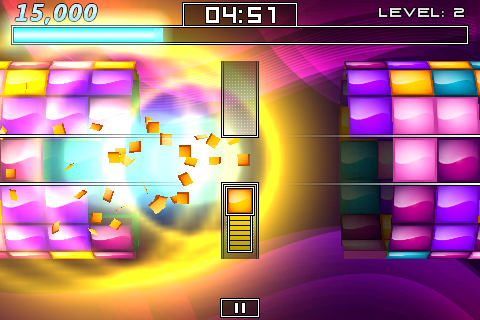 The goal is to create huge blocks of the same color to earn the most points, get power ups, and increase the point multipliers. There will be three different modes in Sigma; Sectors, Time Attack, and Multiplayer. Playing in Sector mode allows you to unlock up to 10 different themes, each with their own music track. Time Attack mode has three time lengths to score as many points as possible before the time runs out. And go head-to-head in Multiplayer mode to compete against your friends over local wifi or bluetooth connection. Sigma will also have the online social network Plus+ included in their game with awards to unlock and leader boards to submit your high scores and compete against the world.
Sigma should be available soon, look for it on the App Store in the near future. And to better see how Sigma will be played, check out this gameplay video:

We'll take a closer look when it arrives. The developers plan on submitting the game to Apple as early as today.