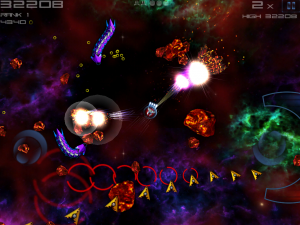 One of our most highly rated games on the App Store, Meteor Blitz [$2.99 / Free] by Alley Labs, is getting an iPad specific HD version. If you have some how missed this game completely since its September release last year, here is a recap of a few of it's succeses:
And if that is not enough to convince you on how good of a game this is, we highly recommend trying the 3 level Lite version of Meteor Blitz [Free] to see for yourself.
There is a lot about the game that we liked from the iPhone version like near-instant load times, auto-save, real-time high score rankings, and great controls that we look forward to playing on the larger screen.
Meteor Blitz HD includes new features such as an extended remix soundtrack, separate high score leaderboards from the iPhone version, a larger playing field, new effects, including slow-motion blur, and more intense particle systems, an option to enable or disable the automatic gravity gun, and all the features from the original, including auto-pause, auto-save/resume, smooth gameplay and controls.
Here is a gameplay video from the developers of the iPad version of Meteor Blitz:
Meteor Blitz HD will be $4.99 and has already been submitted to Apple, so we should expect to see it soon on the App Store. Our impressions on the HD version should be out shortly after this hits the store. We haven't been huge fans of dual-stick controls on the iPad with previous titles, so we'll have to see how one of our iPhone favorites makes the transition.