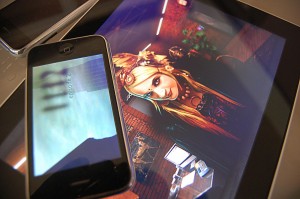 Agharta Studio released the sequel to their 1112 series last month, 1112 episode 02 [$4.99] for the iPhone and iPod Touch. Following up the original, 1112 episode 01 [$4.99 / Free], that came out back in November 2008. And now the iPad version 1112 episode 02 HD [$7.99] has hit the App Store.
If you never played episode 1, we recommend you try out 1112 Episode 01 Lite [Free] to get some background and hands on with, to find out what the type of puzzle game that the 1112 series is like. For the less inclined, episode 2 offers a short summary video to get you up to speed on the story line from the original.
The goal is to help your character, Louis, discover why he has ended up in New York. Through the use of multitouch, you'll be looking for objects and solving puzzles, including some sudoku puzzles, to find your way to completing the mystery of 1112. The game is made up of awesome hand drawn environments to navigate through and admire along the way. Episode 2 includes a multitude amount of new content to interact with;
All new advanced graphical design and artistic direction
25 new larger than life environments
14 new characters
Various puzzles, each with a specific gameplay
An incredibly responsive Multi-Touch user interface
Original score
Elaborate interactive narrative
Totally redesigned game engine
Despite the larger screen and redrawn graphics in HD, the game doesn't play very differently between the iPhone and iPad version. The storyline and gameplay is the same between the two. In fact, aside from the pixelated text, the game plays quite well in pixel-doubling mode. The graphics don't take a major hit at all and look very good still. Because of that, we don't recommend upgrading to the HD version if you already own the iPhone version, as you won't gain much. But if you held out for the HD version, or haven't picked up any of the episodes before, you won't be disappointed by going with the iPad specific version.
The overall consensus in our forums discussing episode 2 seem very positive. The developers have already updated the iPhone version earlier this month to fix some bugs and say the iPad version ships with the fixes already included. With users reporting gameplay length between 3-7 hours long, depending on how long it takes you to solve some of the puzzles, the game offers a fair amount of content. We are already looking forward to episode 3 of the series, so be sure to get your copy of episode 1 and 2 to keep up with the intriguing story.
App Store Link: 1112 episode 2 HD, $7.99