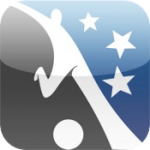 X2 Games, makers of X2 Snowboarding [$1.99 / Free] and last year's X2 Soccer 2009 [$4.99 / Free] just released this year's version of their amazing full 3D soccer game, X2 Soccer 2010 [$6.99].
Soccer fans on our forums are going crazy over this year's iteration of X2 Soccer, and I've got to agree with the positive reactions forum members are having playing the game. X2 Games took everything that was great about the original X2 Soccer 2009 and added new game modes, even more teams and competitions, further refined controls, better graphics across the board as well as 3GS-specific optimizations, and even smarter AI.
On top of all that, X2 Soccer 2010 comes with a full suite of multiplayer options covering local WiFi or Bluetooth as well as online multiplayer which actually works shockingly well for a fast paced sports game. The in-game commentary is decent, there are different weather effects, and if something cool happens in your game you can even save the replay.
We'll have a full review up shortly, but in the meantime, it would be difficult for our initial impressions of X2 Soccer 2010 to be more positive.