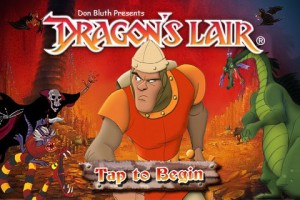 Late last year Electronic Arts brought the classic '80s laserdisc title, Dragon's Lair, featuring the animation of Don Bluth, to the App Store [link]. We were impressed with the iPhone conversion and found it to be a must-buy at its launch price of $4.99 (that's 10 plays of the $0.50 original arcade game) for anyone who remembers the game with fondness.
Today, EA dropped the price of the game to $0.99. At just 20% its original price, now would be an excellent time for anyone who's been contemplating the purchase to grab the game.
The iPhone version of the game offers the use of an on screen sword button as well as a virtual direction pad that can be sized in small, medium or large views. The player has an option of choosing three, five, or Infinite lives. Infinite is actually chosen by default which is presumably a concession by the iPhone developers for the unforgiving nature of the game. For a more realistic "arcade" experience, you'll want to ratchet down the number of lives. As well, the iPhone version features a "Home" play mode, in addition to the classic "Arcade" mode, which makes the game a bit more linear than the original.
App Store Link: Dragon's Lair, $0.99