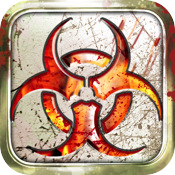 Gameloft's take on the Resident Evil series hit the App Store moments ago. We first got a look at Zombie Infection [$6.99] back at GDC where we got a brief hands-on session with the game. Zombie Infection will have players rampaging through South America slaying zombies of all kinds (even zombie zoo animals) across 12 levels which come packed with everything you'd expect out of a Resident Evil-inspired game including a pair of characters to play as, giant bosses, and plenty of gore.
The recently released trailer sets the scene and shows several brief clips of gameplay footage:
See our discussion thread.