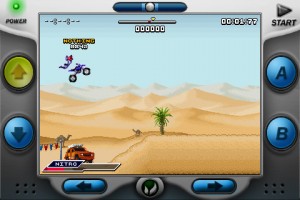 A couple weeks ago, we reviewed Motocross Challenge, a long lost Gameboy Advance game that never came to be which found new life on the App Store. Despite being more than 5 years old it actually turned out to be a really great experience on the iPhone. Solid controls, a polished interface, OpenFeint integration, and a high fun factor combined to make for one of the best motocross games on this platform. Now it's gotten even better as version 1.2 has gone live and adds real-time multiplayer through OpenFeint, as well as a much requested tilt calibration option.
Previously, multiplayer was restricted to OpenFeint friend challenges. You could pick from any track to race 3 laps as quickly as possible and then send that time to any of your friends to see if they could top it. It was nice and actually worked pretty well within the game's structure, and this feature is still kept intact with the latest update. But most likely you'll forget all about the challenge system once you've had a taste of the exciting real-time racing.
Upon choosing Multiplayer from the main menu, you'll select the new option Vs. World. It will bring you to a bike selection screen where you can choose from your available unlocked motorcycles. While you're doing this it's quietly matching you up with people in the background. A few moments later, the players are set and the race begins on a randomly selected course. There's only the option of racing in 3 lap races online, no trick attacks, but it's incredibly simple to get into and a ton of fun. Where you place in the race earns you points that you'll collect as a badge of honor for how well you do and how much you play, similar to an online ranking.

Also noteworthy in this release is the addition of a tilt calibration. You must start a race and access this option from the pause menu, which is a bit clunky but works as advertised. The real star of this update is the online racing which adds unlimited replayability to this already fantastic game. If you have
Motocross Challenge
, give the update and online multiplayer a try. If you still haven't pulled the trigger on purchasing yet, now would be a great chance to join in on all the fun. A new Lite version is also now available.