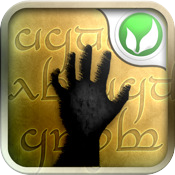 The AppStore being the bottomless font of creativity and innovation that it is, developers are constantly finding new ways to engage us with our devices. Tactility is a big draw card here, with simple concepts such as Fruit Ninja proving a hit thanks to the very cool way that we interface with the game. Brainium Studios provided another example of something fresh earlier this year, but their game was pulled due to a new publishing arrangement. Thankfully, it has now re-emerged as Hand of Greed – dodge the blade! [AppStore].
Hand of Greed is an avoidance game with a twist, forcing you to literally put your hand in the hornet's nest. Where Fruit Ninja had you do the slicing and dicing, Hand of Greed makes you the subject of the slashing– tasked with avoiding the whirling on-screen blades to collect each level's treasures simply by tapping on them. Each time you unsuccessfully jab at a target, the screen is caked with blood and a gut-wrenching stabbing sound emanates from the device, along with a sharp vibrate.
There are 50 levels overall in Hand of Greed spanning over 5 differently themed worlds. Each level is beautifully rendered, with the exceptionally crafted blades stealing the show and occupying most of the screen real estate. This is especially true of the latter levels, where you'll have to face off against a number of wicked looking knives that you certainly will not find in the kitchen.
Each level provides several wave of different treasures to collect, with bonus points awarded for collecting chains of like-treasures. The object of each level is to clear it in its entirety without being sliced more than three times. To help, power-ups are slowly introduced along the way, and provide benefits such as refilling portions of your life bubble located at the top of the screen. They're sorely needed too, as Hand of Greed features a sharp incline (pun intended) in difficulty that requires you to study closely each blade's pattern or face being shredded instead.
Scores are accumulated at the end of each level and high scores recorded on the OpenFeint leaderboards. There are also 17 achievements to unlock, with most of them remaining secret until discovered to further up the ante.

It's a winning formula that is as simple as it is effective. Though there's not a lot of depth to the game, it's a terrific time waster that should keep you occupied for a long while, largely thanks to its gruelling difficulty (which may very well be too much for some). Just don't show it off to anyone with a queasy stomach or penchant for fainting at the sight of blood.
App Store Link: Hand of Greed – dodge the blade!, $0.99.