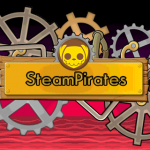 When we first reviewed Mecho Wars back in mid-2009, we were extremely impressed by the stylish, artwork and rich palette that creator Luc Bernard brought to the game. It's no wonder that his upcoming title, SteamPirates has received so much attention from our forum readers, as screenshots released to date have hinted at a gorgeous steam-punk based RPG with a certain feline influence.
SteamPirates is essentially a linear, turn based strategy game, with light platforming helping to tie the combat sequences together. You start off playing as Kat, a cat-raised, furless human working for the canines; and soon add to your team when you meet Ziggy, a sex-crazed star of an obnoxious rock band. The storyline of cat vs dog is outlined at the beginning and via character dialogue throughout. It's certainly different and sometimes entertaining, but tries a little too hard to be crude at times.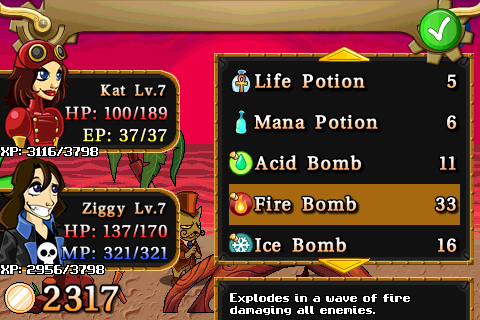 The combat is menu driven, where you use standard attacks, items or skills awarded to your characters upon reaching certain levels. There doesn't seem to be any character customization (in terms of gear or skills) in the build we have– a feature still to come– as a badge system was described in some detail in our forums.
The game features a number of mini-games in the latter part of the game. We came across helm-to-helm ship combat in our play through, which involves tapping on screen to direct your cannon fire. It's a simple implementation, but helps to break up the turn-based combat. There are purportedly castle-defence and match-3 mini-games spattered throughout the game too, which we'll have more details on in our review.
The artwork in SteamPirates is definitely its draw-card, and we hope the gameplay will follow suit. We'll be back for a full review when it launches, but in the mean time check out our video above of the opening minutes of the game and post your feedback and comments to our forum thread.