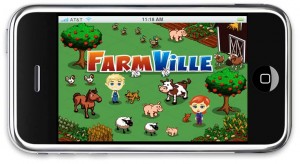 The extremely popular Facebook game, FarmVille, may be making its way to the AppStore. FarmVille is a farming simulation game, where users plant, grow, and harvest virtual crops along with raising livestock, similar to the freemium ngmoco game We Rule [iPhone / iPad] that was released last month. FarmVille is developed by the company Zynga, who is no stranger to the AppStore, with over 40 applications including Mafia Wars and Live Poker.
News of this broke when Supererogatory posted that DNStination Inc. registered the domain names farmvilleipad.com, and farmvilleiphone.com. DNStination is the same company that holds the domain name to the official farmville.com website by Zynga.
When Mashable.com asked a spokesperson for Zynga about it, they were told, "Zynga plans to expand to various mobile platforms." However, they were not able to get any more information. With the combination of the new domain names,  Zynga's willingness to move to mobile devices, and their history of being in the AppStore, it seems likely that FarmVille may be coming.
It will be interesting to see if the mobile devices that 'Zynga plans to expand to' will include all the features that the full version has available online.