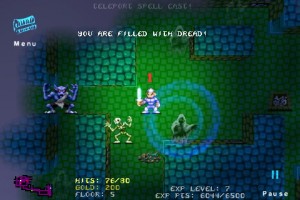 Sword of Fargoal ranked as one of our best games of December 2009 and received a 5 star rating.
By far the most approachable roguelike, Sword of Fargoal is a classic dungeon crawler with randomly generated levels which provide nearly infinite replay value. Aside from being a fantastic game, Sword of Fargoal also serves as an excellent example of how retro ports should be done. The iPhone version preserves the look and feel of the original while adding new OpenGL effects and other modern graphical flare. If you've never played a roguelike before, Sword of Fargoal is a great introduction to the genre.
If you were never sure what all the fuss was about, here's your chance to get the whole game for free. The developers have dropped the price of the game for free for today only. So, download it now.
The recent 1.1 update has even added a number of difficulty levels and additional content.
App Store Link: Sword of Fargoal, Free (Today only)