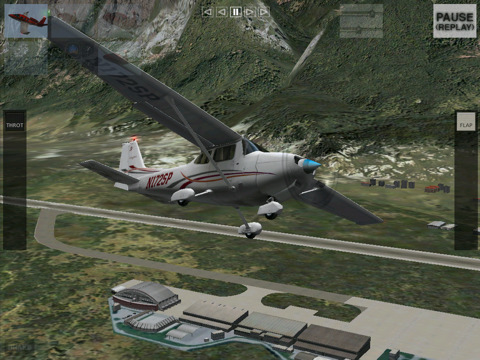 For 25 years now, I've been an avid flight simulator fan. (That's longer than Flight Simulator II to X, but who's counting.) And the sim series that I spend the most time with is X-Plane from Laminar Research. When I'm looking for a bit of relaxing entertainment during my commute, I often fire up one of the iPhone versions for some accelerometer-controlled soaring. But, for "serious" virtual flight sessions, I turn to the Mac version, which enjoys a much larger screen and additional sim features. That said, it should come as little surprise that I was quite pleased to see X-Plane for iPad [link] appear in the App Store as iPad titles began going live yesterday.
Says developer Austin Meyer of the iPad version,
The large screen and powerful processors of the iPad provide a tremendous amount of power that we have NOT seen in ANY mobile device to date. As well, the huge touch-screen interface for cockpit control and accelerometer-based sensing for flight control allow an interface to the virtual cockpit that is simply amazing.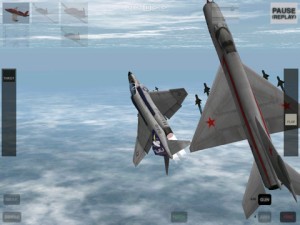 According to Meyer, X-Plane for iPad features new, high resolution scenery and aircraft data, delivering four times the detail of the iPhone version. Terrain is dotted with 3D buildings, including terminals in San Francisco, Seattle, and Innsbruk, Austria. A reworked interface features much more detailed instrument panels and an RF control that's uniquely suited to the iPad. Background Air Traffic Control radio chatter, new to this version, adds depth to the experience of real cockpit flight.
I've long been impressed with just how enjoyable a flight experience the iPhone version [App Store] provides, despite the small screen. The notion of sitting on the couch and enjoying a much enhanced version of this experience is a nice one. (One doesn't always want to belly-up to a desk and grab a flight-stick when the wild blue yonder calls.) This is likely to be an obvious buy for any iPad-owning flight sim fan.
Those more interested in hardcore aerial combat games and unfamiliar with the X-Plane series should be aware that this is definitely more of a true simulation than a Ace Combat-type affair.
App Store Link: X-Plane for iPad, $9.99