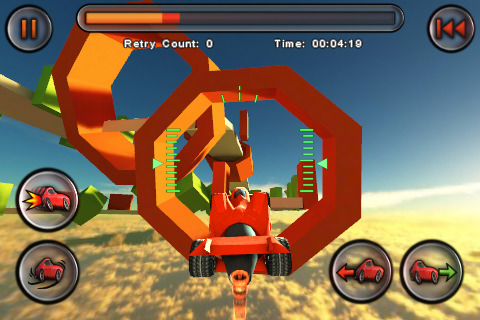 One of our favorite games from 2009, Jet Car Stunts, has finally gotten a Lite verison. So if you haven't tried it yet, you should. We gave Jet Car Stunts a 5 star rating when we reviewed it back in November and included it in our Best of 2009 gaming list. Here's what we wrote in our year end roundup:
A remarkably fun jet car racer/platformer that had us coming back again and again due to its great controls, fresh visual style and mind boggling levels. The only real complaint we've seen voiced has been the relative difficulty of the game, but, honestly, that's what made it so addicting.
The Lite version of the game comes with entirely new content as well as online leaderboards. So veterans of the game will want to give it a spin as well.
5 brand new platforming levels.
3 brand new time trial levels.
Global leaderboards, replays and challenges using OpenFeint.
Here's a video of the Lite in action:
The developers have also been running a Jet Car Stunts contest which ends this weekend. So, get practicing.
App Store Link: Jet Car Stunts Lite, Free, Jet Car Stunts, $1.99