Earlier today, multiple reports have revealed the early iPad App Store offerings currently sitting on Apple's servers. The iPad App Store appears live and ready for use for anyone with a device. Of course, this makes sense given the fact that Apple has likely delivered early units to reviewers ahead of the April 3rd launch.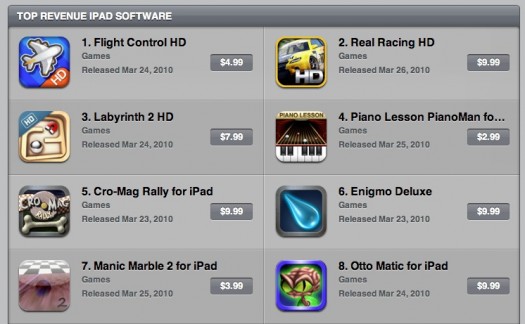 From our perspective, we are most interested in the new iPad games that the leaks reveal. Several have already been pre-announced or previously spotted, but some of the recognizable games include:
Flight Control HD – $4.99
Labyrinth 2 HD – $7.99
Real Racing HD – $9.99
Bugdom 2 – $9.99
Cro-Mag Rally – $9.99
Otto Matic for iPad – $9.99
Enigmo Deluxe – $9.99
Igloo Games Arcade – $6.99
Sparkle HD – $2.99
Pricing for these recognizable games are, of course, higher than their iPhone counterparts, but are likely to represent improved graphics and even added gameplay elements in many cases. $9.99 still appears to be the ceiling price for gaming even on Apple's new device.
Firemint was able to officially confirm Real Racing HD:
I still can't say much about this, but you may have seen some posts about this so I thought I'd drop in and give the official word: yes, we are working on Real Racing HD for iPad, and yes, it will be awesome 🙂