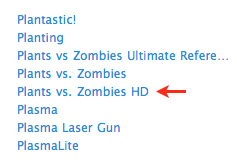 It appears that several iPad specific version of games have already been approved by Apple and are inadvertently appearing in Apple's iTunes Web Interface. PadGadget dug around found several "HD" apps that are likely iPad versions of popular games:
Ammoin HD
Azkend HD
Flight Control HD
Grind HD
Labyrinth 2 HD
NBA Hotshot HD
Numba HD
Plants vs. Zombies HD
Sparkle HD
Worms HD
Several of these games have already been pre-announced, but notably, iPad versions of Plants vs. Zombies and Worms had not been known to be launch titles.
The iPad launches on April 3rd, 2010.