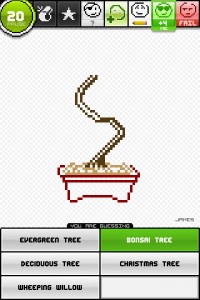 One of the developers we met up with at GDC was Makeshift Games who previously released Chuck the Ball in early 2009. Their latest creation, however, is an online multi-player pictionary-type game called Depict.
The game was originally released in December as a $0.99 game, but has since made the transition to Free. The game is structured around a round in which up to 5 players compete to guess what is being drawn. Each player has a turn at drawing during each game. The faster you answer, the better your score. Instead of typing, you are given up to 6 different multiple choice answers.
The developer's gameplay video shows how it works:
The core game remains free to play. To support their servers, Makeshift is offering two in-app purchases: custom avatars and a "lightning round" where you just guess as quickly as you can.
The game incorporates OpenFeint so allows you to play against randomly paired strangers or with your own group of friends. It's fun and free. Give it a try.
App Store Link: Depict, Free.