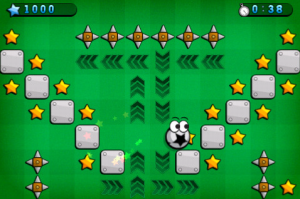 Makeshift Games has recently released maze game Chuck the Ball [App Store] for the iPhone and iPod touch through the App Store.
Chuck the Ball is a colorful maze game in which the player controls Chuck, a ball that's on a mission to collect lost stars across various playfields filled with obstacles.  Swiping a finger in Chuck's path lays down a  marker that causes him to change direction in accordance to the swipe.  An accurate series of swipes will get Chuck from star to star, but it's not as easy as it sounds–Chuck is in constant motion, obstacles are everywhere, and a timer is ticking down.
Features listed by the developer:
100 levels of mazes and puzzles
Three difficulty levels, making it easy to learn but hard to master
Multiple modes of play designed to appeal to puzzle addicts and casual gamers alike
Various hazards and bonuses that make each level unique
Easy touch-based controls that don't require pesky turning movements
See the developer's gameplay video for a look at the action:
Makeshift indicates they are currently experimenting with a puzzle-mode and various other enhancements that should make their way to the App Store in the form of an update soon.
App Store Link: Chuck the Ball, $2.99