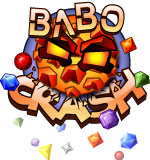 I have played a lot of match 3 games since I got my iPhone and there all pretty much the same. A few like Trism [2.99] and the recently updated Puzzle Quest [4.99] change the formula but there still just another match 3.
Well PlayBrain's soon to be release game called, 'Babo Crash' doesn't change the formula. But it does add a whole lot of insane power ups and gem busting heroes to it.
'Babo Crash' uses the cast from PlayBrain's Madballs: Babo Invasion game for the PC and Xbox Arcade. The object of the game is to collect enough gems in a set time limit to pass to the next level. This part of the game plays just like Bejeweled Blitz, but with a twist.
When you match more than three gems you create a hero gem. Each color of gem creates a different hero, when you use them in a match you activate their special ability. This is where the game gets good. One of the abilities creates a ball on the screen that you control by tilting you iPhone which destroys every gem it touches. There is something very satisfying about destroying gems in this manor.
There was so much going on while I was playing this game that I forgot I was playing a simple match 3 game. Also, when I went back to other match 3 games, they seemed slow and uneventful. This game totally refreshed how I look at games like this. And to think, I almost didn't even give it a chance because it was "yet another match 3 game".
PlayBrains is planning to release the game once they finish an update to have it iPad ready, which should be any day now. If you like match 3 games but have been bored with them lately, give this one a try. I think it adds excitement back in to the genre.
Update: Babo Crash [0.99] is now available in the app store.