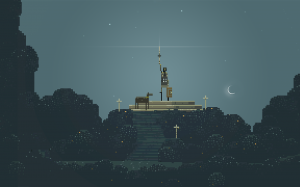 This morning I met with the guys behind Sword & Sworcery EP: Craig D. Adams of Superbrothers, Nathan Vella of Capybara Games, and musician Jim Guthrie. In its current state, Sword & Sworcery EP, is less of a game and more of an "experience", but both Blake and I were completely blown away by the music, atmosphere, and profound feel of the whole thing.
Sword & Sworcery EP seems like a classic pixelized old school adventure game where players find themselves in a mysterious world to explore. The game has two distinct play modes currently, a landscape mode for exploring, and when you enter combat, turning the phone sideways changes the game to the battle mode, which plays a lot like the classic NES Punch Out. You can swing with your sword, dodge, and block.
The team has put together two videos of the first section of the game, which they've described as "like the tram ride in Half-Life." If you've never played Half-Life, the game started with a minimally interactive train ride of sorts that did a fantastic job of setting the mood for the entire game. After taking the Sword & Sworcery tram ride, all I can really say is wow.
Horizontal "sworcery" mode:
Vertical "sword" mode:
Sword & Sworcery recently won an achievement in art at IGF Mobile 2010, and is scheduled for a Q2 2010 release. The team is planning on slowly releasing more details (and hopefully gameplay videos) over the next few months. Out of all the games we've seen so far at GDC, this is the one we're by far the most excited for.
At this point in the life cycle of the App Store, it's starting to seem like games are often very similar to existing games, with one or two tweaks or a vaguely different feature set. Sword & Sworcery feels unlike anything I've played on the iPhone, and I can't wait to dive deeper in to it.