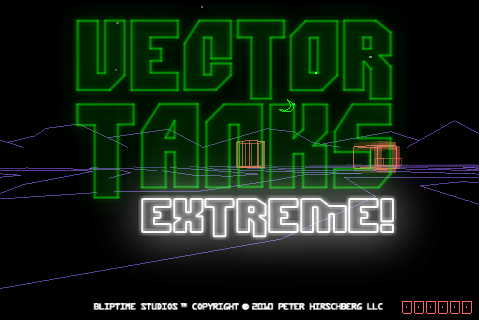 Earlier this month we posted an update on Peter Hirschberg and his glowy bit of retro vector goodness known as Vector Tanks. As we indicated in that post, Peter has recently setup his own studio, BlipTime Studios, and through it has released an update to Vector Tanks known as Vector Tanks (Classic Version) [App Store] at $0.99.  As one might suspect, denoting the current game as "classic" indeed betokened the near-term arrival of a rather revamped take on the original.
That game is Vector Tanks Extreme, and Peter has given us an exclusive look at the release version of the title before it makes its App Store debut.
The game has been split into two versions to provide, as Peter tells it, a version that delivers the "retro-simplicity" of the original, along with a version that's "a Vector Tanks experience WAY over the top for those seeking a bit more of a challenge."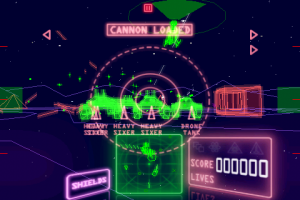 Vector Tanks Extreme offers everything the original did, plus more tank types, more weapon types (my personal favorite is the Rail Gun), airborne enemies (helicopters), and downright frenzied action. The standard play mode is Combat, which is a desperate bid to wipe out as many enemies as possible before losing all your lives, while Rage mode gives you unlimited lives and ammunition with the goal of wiping out as many enemies as possible before a two-minute timer runs out. Both modes are brutal, let me assure you. An integrated online scoreboard shows the world your strength (or weakness) and network play support is a planned addition, to arrive in a future update.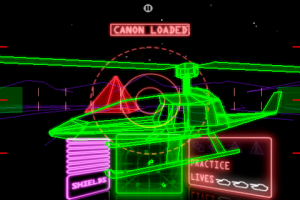 I've had the final build of Vector Tanks Extreme on my iPhone for the past few days and have spent considerable time scoping down enemy tanks, jeeps, and copters. Having become quite familiar with the title, I can definitely say that "WAY over the top" is in no way an overstated description. This is perhaps the most intense iPhone shooter I've ever encountered. If you enjoy Vector Tanks and feel it's a little on the difficult side — stay away from Vector Tanks Extreme. You don't have the stuff.
As we mentioned in our earlier piece, in moving from Chillingo to his own BlimpTime Studios for the original Vector Tanks, now known as Vector Tanks (Classic Version), Peter was unable to make the latest version of the game (v1.3.2, posted earlier this month) a free upgrade. But, to help get every owner of the original up to speed on the latest version, he will be offering Vector Tanks (Classic Version) as a free download during the week following the launch of Vector Tanks Extreme. Thanks Peter!
Have a look at the Vector Tanks Extreme trailer to get a taste of the action.
Vector Tanks Extreme has been submitted to the App Store and should be available for download sometime in the next few days at a price of $1.99.
Update: It's come out already: Vector Tanks Extreme, $1.99