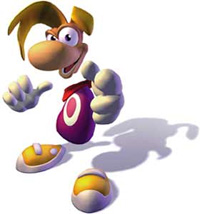 First Driver, now Rayman 2: The Great Escape. Gameloft seems to be on a roll with porting old PC / console games to the iPhone platform.
Rayman 2 is a 3D platformer released in late 1999 that takes place in a world known as the "Glade of Dreams" that happens to be infested by robot pirates who, lamentably, invaded and destroyed the "Heart of the World". Now it's up to Rayman to seek out the four magic masks needed to awaken Polokus, the spirit of the world, and set things right.
The game will be available on the App Store on March 1st, and Gameloft released the following trailer which shows quite a bit of gameplay:
When Rayman 2 was first released, it saw a positive reception both from gamers and the gaming media, but the recent Nintendo DS port tarnished much of the magic due to an extremely problematic camera system that made traversing the various 3D obstacles much harder than it should have been. While the original 2D Rayman may have been a better fit for the iPhone, as fans of the Rayman series, we're excited to see this game on the iPhone and hope Gameloft continues porting these classic games of the 90's.