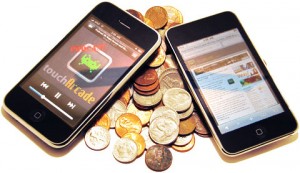 It's that time of the week again, and the only thing that can make Friday even better is lots and lots of free or cheap games. This week oddly enough is absolutely loaded with great freebies. As usual, the standard iTunes price change disclaimer applies in that the prices listed here are current as the time of this posting, but are subject to change at any time. If you want any of these games (especially the freebies), grab them now.
Appy Entertainment's crazy fighting game allows players to either snap a photo or import one from the photo library of someone's face. Whether that's your wife, Neil Patrick Harris, or your cat, the game doesn't care. After that, you're able to fight your new opponent in game. As you pummel them to death, FaceFighter overlays black eyes, a broken nose, swollen lips, and other things on top of their face to indicate the damage you're inflicting.
Sentinel: Mars Defense, 99¢ → FREE
Still one of my favorite tower defense games, Sentinel has everything you'd expect out of a good tower defender. Give this one a spin and if you like it, you'll love the sequel, Sentinel 2: Earth Defense [$2.99], even more.
Other free games worth checking out include:
---
Space Miner: Space Ore Bust, $4.99 → $1.99
Venan Entertainment's Space Miner is absolutely amazing. Great controls and graphics combine with a fun Asteroids-like core gameplay element that is all wrapped in the wacky Space Miner universe loaded with ship upgrades that will keep you playing until your battery is dead. We absolutely loved the game in our review and since the price drop the game has been rocketing up the top app charts. You don't want to miss this sale.
Other rad games worth picking up that all saw recent price drops include:
Of course this is just a small selection of the games on sale this week. For a full listing, head over to AppShopper where you can see a listing of all games as well as all popular games with recent price changes.