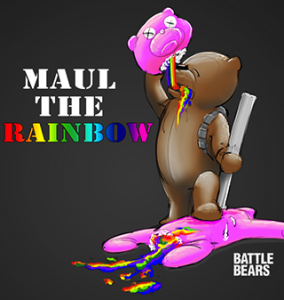 Free today only, Battle Bears [App Store] is a survival shooter with a completely ridiculous premise that is totally worth downloading for the opening cut scene alone, even if you never make it farther than that.
From our review:
Imagine a world in which you are caught behind enemy lines, and your only hope is to take out an endless onslaught of pink bears whose only wish is to hug you to death. Welcome to Battle Bears.
Since we first looked at it, Battle Bears has been updated a number of times to add all kinds of new content, online scoring via OpenFeint, and other goodies such as a legion of zombie bears and the dreaded Colbear boss. The trailer for Battle Bears 1.5 shows a few of these things:
We included Battle Bears in our best games of 2009 listing, and it's still a game I recommend to people just because it is so weird. Whatever you do today, make sure you download Battle Bears, and while you're at it, tell your friends, co-workers, and neighbors to download it too.
App Store Link: Battle Bears, Free – Today only, normally 99¢.