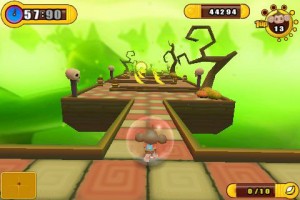 Earlier this week we took a look at Sega's recently released Super Monkey Ball 2 [link], a followup to their popular App Store launch title. The game commands the premium price of $9.99 but, for this weekend only, Sega is offering the game at 50% off, bringing the price down to $4.99.
As we indicated in our review, Super Monkey Ball 2 improves upon its forerunner by delivering notably enhanced visuals, improved controls, mini-game support, and WiFi multiplayer. Read the full review for more details.
Those who were held back by the launch price may want to consider grabbing Super Monkey Ball 2 while it's only half as dear.

[ Full HD version | Low Bandwidth version ]
Sega has submitted a version 1.1 update to the App Store, which addresses certain user-reported issues.
App Store Link: Super Monkey Ball 2, $4.99 (weekend sale)