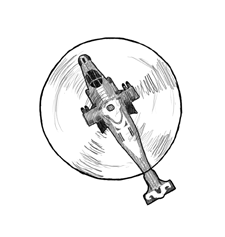 At GDC back in March, Touch Arcade had the opportunity to sit down with Engineous Games and spend some time playing with a pre-alpha version of their rather unique, upcoming title ,Sketch Nation Shooter, in which you're not only the game's player…but also its designer. An interesting proposition, eh?
Sketch Nation Shooter allows users to create their own games by drawing a player, enemies and a level on a piece of paper and taking a picture of the drawing with their iPhone camera. Users can then share their creations with their friends and other users. Our unique image recognition technology automatically detects the objects drawn and calculates collision boundaries. Sketch Nation Shooter is the only game to incorporate the iPhone camera in such a way. iPod Touch users can import their drawings through the Photo Library. After the drawings are imported into the game, users will be able to place enemies and powerups as well as set their properties in our easy to use in-game editor and then play with their unique creation.s
We were quite impressed with the image capture technology in the game that we saw and feel sure that iPhone gamers will have a good time experimenting with this one when it hits the App Store early next year.
The pre-release game has since won AppFire's AppStar contest. Watch the video to see how it works.
Engineous views their technology as a development platform more than just a single game, so while their first release will be a shooter, they intend to apply the tech to games of other genres such as tower defense, platforming, etc. Have a look at the developer's Sketch Nation blog to track development of the game and stay tuned for more details from Touch Arcade as we get them.