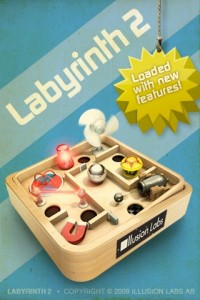 Illusion Labs is easily one of our favorite iPhone developers. Each of their iPhone titles so far have taken clear advantage of the platform's unique abilities in order to produce compelling gaming experiences. Illusion Labs has been responsible for the sort-of-platformer Sway as well as the finger skateboarding game TouchGrind. Both of these titles used multi-touch in a well-thought out control method that really complimented the gameplay of each.
When you look back at their first iPhone game Labyrinth, you may now consider it to be relatively primitive, but at the time of its release, Labyrinth really set the standard for ball rolling games. According to the developers, Labyrinth has been downloaded over 10 million times since its launch.
For their next game, Illusion Labs is going back to these early roots and is finally producing a sequel to the original ball roller with Labyrinth 2. After having spent some exclusive hands-on time with the game, I can already say it's great.
Like the original game, the goal of Labyrinth 2 is to get the silver ball from the starting point to the goal while navigating walls and avoiding the holes. In the first version, that was pretty much all there was to it. Labyrinth 2, however, adds a number of new elements that graduate the game from simple wooden toy simulator to arcade game.
These elements include cannons, bumpers, doors/switches, magnets, fans, resizers, merry-go-round, duplicators, lasers and more. Navigating the levels still require careful tilt control to avoid falling to your death, but are also more puzzle/goal driven as you must also figure out how to make it to the exit. Levels are timed as before so beating your individual high scores remains the motivator to play a level again. This time, however, they've added a ghost ball representation of your best time for you to directly compete against.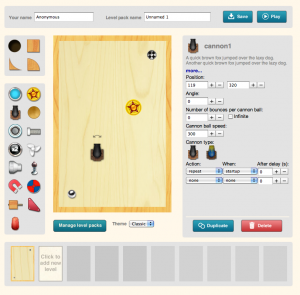 Beyond the compelling core gameplay, the developers have also added a couple of additional features that should extend the game's life indefinitely.
Like the original, players can create their own levels with a fully featured web-based editor. These free user creations can be sorted by popularity and rating and can be downloaded directly to your device. Finally, the game offers a very nice local multi-player setup over both bluetooth and Wi-Fi. This lets you play up to 4 people on the same board. In this case, all of the player's balls will appear on each other's screens — similar to ghost ball replays, but played in real time. All players movements are reflected on everyone else's devices so you know exactly how far ahead or far behind you are. First to the goal wins, and a running score is kept as you continue playing across any of the levels. I suspect this feature alone will cause the game to spread like crazy amongst offices and schools.
The developer's intro trailer starts with a cinematic and later shows actual gameplay:
There's been no official release date, but Labyrinth 2 should be coming soon and it's definitely one to look forward to.