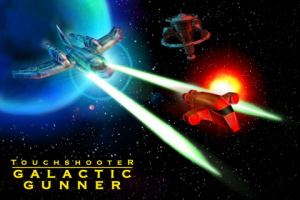 As part of a challenge to get more Twitter followers, the guys at Ezone held up their end of the bargain when they hit 500 and made Galactic Gunner [App Store] free today. We enjoyed Galactic Gunner when it first came out, and with the free Friday promotion there's really not much reason to give it a spin if you're at all interested in sci-fi shooters.
From our coverage of the Galactic Gunner release:
As the title would hint, you play as the Galactic Gunner, shooting down Trepidoids by tapping the screen while the Galactic Captain flies the ship. Taking the control out of the player's hands allows for a more cinematic experience as your ship flies through precisely choreographed manuevers.

All the while, you're listening to near constant radio chatter between the Galactic Captain, your wingmen, and the Trepidoids. The whole package creates an experience unlike anything on the App Store, and the game feels like playing an episode of a wonderfully cheesy low-budget 80's Sci-Fi show, especially whenever the Trepidoids speak.

[ Full HD version | Low Bandwidth version ]
The only thing bad we had to say about the game was its relatively short length, but it's hard to complain about a half hour or so of expertly choreographed free rails shooting action. Galactic Gunner is going back to its regular price tomorrow, so don't delay if you're planning on giving it a try.
App Store Link: Galactic Gunner, Free