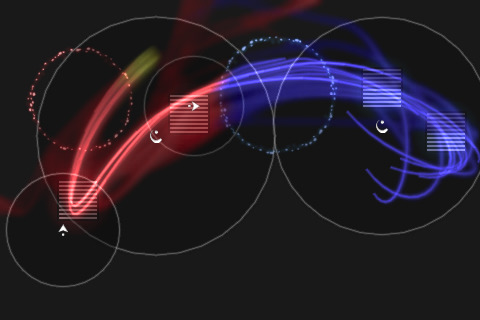 Auditorium has arrived for the iPhone. The musical puzzle game began life as a Flash game that can still be played on its website.
In Auditorium you have to guide a flow of light particles into the audio containers on the game board. Each level has a different set of movable pieces that all have different effects on the flow of these particles, from simply controlling its direction, speed, or even attracting or repelling the flow. The early levels start in grayscale, but quickly make way to vibrant colors and different audio containers that can hold each the various particle colors.
The iPhone version of the game contains 25 levels across 5 different acts and naturally uses touch and pinch controls to adjust the placement and strength of the pieces. Additional "movements" (levels) can be purchased for $0.99 a piece, adding 14-17 levels per pack. Some of the more advanced pieces that affect particle movement are reserved for the add-on content. A Lite version of the game is also available which contains 5 different levels and starts off slightly more difficult to give you a better taste of the game. Auditorium is an original game that's worth a try if you've never experienced it before.
App Store Link: Auditorium Lite, Free, Auditorium, $2.99