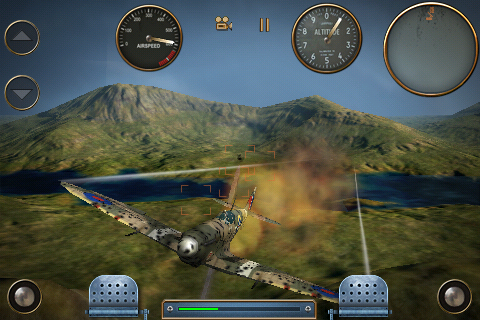 SGN has announced their upcoming game Skies of Glory which is due out later this year. This followup title to their popular F.A.S.T. game will take advantage of Apple's new rules that allow free applications to sell in-app purchases, so like Eliminate Pro, Skies of Glory will be free to download and play but add-ons will be sold in the game itself.
Skies of Glory is an aerial combat game much like F.A.S.T. but set in World War II with various terrains including mountains, deserts, and sea which are said to showcase the classic views of WWII air combat. The game will support both local Wi-Fi battles as well as online battles around the world. Features include:
Battle up to three human opponents around the world or up to seven locally over Wifi connection
10 Campaign Missions to complete.
Skirmish Mode which included single player Teams, Free For All and Capture the Flag.
100 missions to perform in Training exercises.
Bluetooth locally with your friend
Of course, in app purchases allow for buying planes and equipment with further campaigns and content to be available over time. Here are the first set of screenshots:

The game is expected to be released in December.