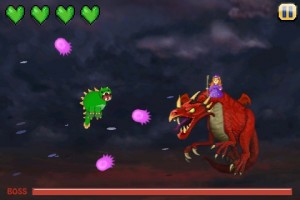 What do you get when you combine a creative lead from Spore and an artist that just finished working on Brütal Legend with the indie spirit of the App Store? Apparently, a dragon with an insatiable desire to stomp on castles while raining fire down upon unsuspecting victims and doing other things dragons do. Or at least, that's the premise of their game Earth Dragon [App Store].
The game features a mixture of tilt and touch controls to maneuver your dragon and spew fire across 15 different levels of increasing difficulty. The recently released trailer shows a bit of the gameplay as well as expanding on your duties as a dragon-
Developer Chaim Gingold has an impressive resume revolving around his involvement in Spore (along with his own Wikipedia page) and artist Jane Ng has spent time as a Senior Artist at both Double Fine Productions and Electronic Arts. It's interesting to see what the two have come up with on the iPhone, and while Earth Dragon doesn't really provide anything revolutionary to the platform, it's still a fun game to play.
App Store Link: Earth Dragon, $2.99