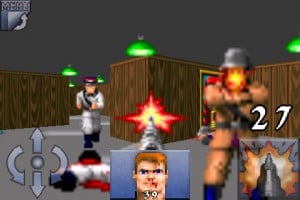 While we all wait for Doom Classic to be approved in the App Store, id Software has released a major update to their popular Wolfenstein 3D Classic game which adds a ton of new content.
Features include:
Now with the Spear of Destiny levels – 21 total new maps
5 new Bosses
New enemy – Ghosts
Download custom made maps
Double tap to Zoom in-game map
id Software trivia section
Scrolling map selection menus
The update is free for existing Wolfenstein 3D Classic owners and remains at only $1.99. The map download instructions are detailed here. Instead of in-app downloads, id allows you to distribute .map files through Safari which load the maps directly into Wolfenstein 3D on the iPhone. To create levels, you will need to download a Wolfenstein 3D map editor for your computer.
App Store Link: Wolfenstein 3D Classic Platinum, $1.99