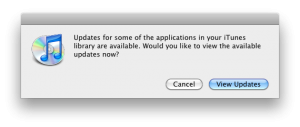 In the midst of all the various approvals last night, Apple also let loose a tidal wave of updates. It's probably a good idea to mash the "Check for Updates" button in iTunes to see what is available. Here's a list of the more notable updates that went live tonight that added some new features or functionality to some games that we have posted about in the past.

Words With Friends, $2.99 – Aside from Facebook and Twitter integration, Newtoy also finally added push notifications to the game. With them enabled, you will get an alert whenever it's your move in an active game. There is also a lite version available, but so far push alerts are only in the premium version.

Harbor Master, 99¢ – Version 1.6 adds bluetooth multiplayer, fast forward, and the ability to toggle auto-docking. In the multiplayer mode, when you send a ship off screen, it appears on the same position on your opponent's screen with a full load of cargo. With careful planning, you may be able to overwhelm your opponent by keeping empty ships on screen to send them all over to your opponent in one huge wave. There's also an available lite with one of the maps from the full version.

Run, 99¢ – The latest update adds all kinds of new functionality. A quick start mode to ramp up difficulty faster, OpenFeint, extra lives, a combo system, along with several new achievements and obstacles. There's a clock on the pause screen to see how long you've been playing, and a whole bunch of other minor gameplay tweaks.

Bobby Carrot Forever, $3.99 – FDG Entertainment has extended the game world, bundled in a new free level pack, and 5 new downloadable content level packs that boast 15 additional hours of gameplay. Bobby Carrot 5 Lite will let you get a taste of the game if you don't already own it.

Hi, How Are You, $1.99 – This Daniel Johnston-powered puzzle game somehow got even more awesome with 33 new levels, even more enemies and obstacles, and additional achievements. The new update also introduces some interface tweaks, bug fixes, and some rebalancing of gameplay elements. If you haven't yet, give the lite a spin.

Lion Pride, 99¢ – As if hunting for prey during the day wasn't enough, Blue Fang Games added a night time mode, along with elephants and four new levels along with some bug fixes and scoring tweaks.