While our NBA Live preview with video was definitely the main attraction for us at the EA pre-holiday "Naughty or Nice" press event in New York today, that wasn't the only thing they were showing off there. The event was segregated into the "naughty" games, such as Left 4 Dead 2 and Dante's Inferno for the XBOX 360 and "nice" games like Spore Hero Arena and other kid-friendly titles.
The iPhone games were firmly seated in the "nice" department, and while they were also showing off Command & Conquer Red Alert and Rock Band (Two games we previewed last week.) we also got to pick EA's collective brain about several upcoming titles and a few new features being added to their old ones.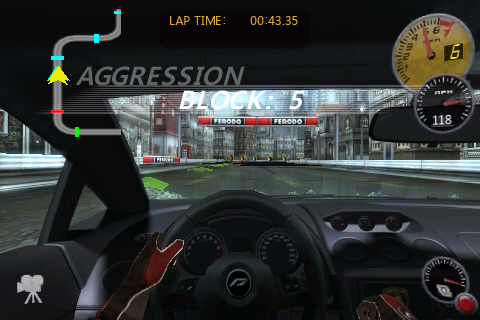 Need For Speed Shift is still in the works. We originally had hoped to see a preview today but EA had decided that the game needed some more work before they would be ready to show more than the few screenshots that had already been released. Need For Speed Shift is going to feature 20 name brand cars, each with customizable performance upgrades. Also, the aggression and precision analysis has made it to the iPhone from the console version, and you will be awarded different trophies depending on how aggressive or precise your racing style is.
They're spending a lot of time concentrating on making sure the graphics of Need For Speed Shift are as good as they can be, and EA is hopeful to see the game released later this year.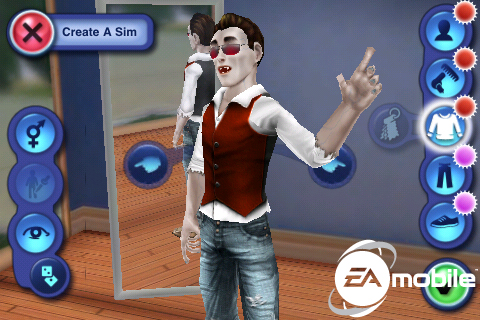 An update currently aimed at mid-November for Sims 3 is going to add a handful of downloadable content (DLC) packs to customize your Sim and their house. These DLC packs are segregated in to "live it" and "wear it" packs for furniture and clothing. Each bundle of content will include a few different hairstyles and outfits or pieces of furniture. The first three themes that are being rolled out are the "Castle," "University," and "Vampires and Werewolves".
The castle "wear it" pack will allow you to equip your sim in a suit of armor, and the vampires and werewolves live it pack will add things like coffins to your house. They weren't willing to discuss pricing, but acknowledged that they needed to provide a good value as you can buy an entire iPhone game for 99¢, the current lowest price point allowable by Apple for in-game purchases.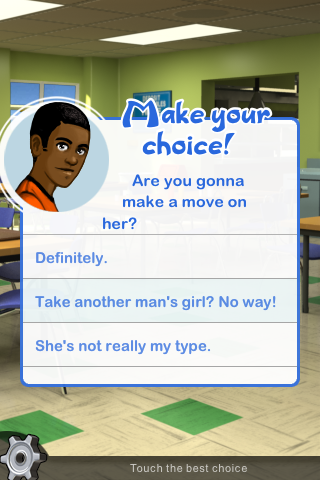 If teenage text-based adventures with a few mini games thrown in are appealing to you, Surviving High School may suit your fancy. According to EA, the original J2ME game was wildly successful on mobile phones, and they thought it was a "no brainer" to bring it to the App Store. Through various dialog choices you can become a jock, a nerd, or several other personality types. Surviving High School is essentially a very involved graphical equivalent to a choose your own adventure book, revolving around teenage life.
While I'm not sure how much the game will appeal to our readers, the comic styled graphics were very detailed and it looked like it might be good for some cheesy moments and ridiculous decisions. EA plans on releasing Surviving High School this November.
Also discussed were DLC packs that will be available through Rock Band. Songs will be sold in packs of two for 99¢, and while they wouldn't say how much content they planned on offering, if the console versions of the game are any indication, it wouldn't surprise me to see a decent amount of available DLC. And if you've been waiting for Rock Band, EA told me they're not holding it for a specific launch date, it will appear on the App Store as soon as Apple approves it, which could be any time now.
Command & Conquer Red Alert local multiplayer over both WiFi and Bluetooth is coming in a free update following the game's launch, and they're also planning on selling map packs via an in-game store. Again, no pricing has been announced, but it's nice to see EA planning on supporting their games with additional content.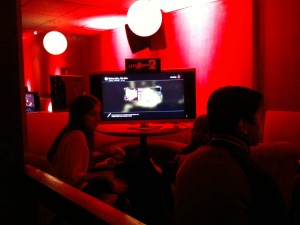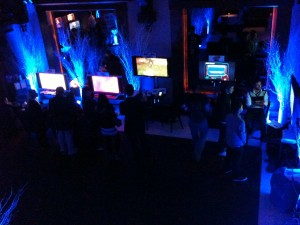 Throughout all of this I can't help but be amazed by how much EA's iPhone catalog has progressed over the past year. This time last year EA's commitment to the iPhone was limited to simple tilting games like Spore and equally simple board game ports like Scrabble. By the end of this year we will have seen not one but two Need For Speed games, an entire collection of EA sports titles, and other great games no one would have expected to have ever seen on the iPhone a year ago.