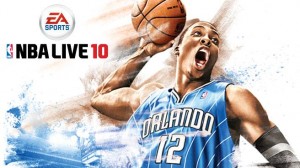 At EA's Naughty or Nice press event this afternoon in the heart of New York City we were able to get our hands on NBA Live, the first fully licensed complete 5 on 5 basketball game available for the iPhone. My time with the game was somewhat limited, but I walked away impressed with what EA Mobile was able to squeeze out of the device.
As we mentioned in our earlier post with the bundle of screenshots EA released, NBA Live is a remarkably full featured game. All 30 NBA teams with complete player rosters are in game, along with each team's respective stadium. All of the team and player stat tracking is in place very similar to Madden 10, and there's even different season modes that you can either play or simulate all the way to the NBA finals.
Like most sports games (or other games with lots of action), the screenshots barely do NBA Live justice. Watching the game in motion with ten players on the court complete with shoes squeaking and the crowd either cheering or jeering really impressed me.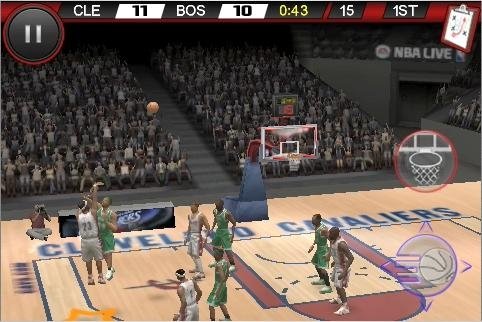 If you've ever played a basketball video game before, the controls will come naturally. A virtual analog stick controls your movement and a set of two buttons handle different functions whether you're on offense or defense. When you have the ball, one button passes while another shoots, dunks, and does other trick shots depending on how long you press the button and which way you flick your thumb afterward. When the opposing team has the ball, these buttons handle cycling through players and blocking.
A button in the top right corner momentarily pauses the game and allows you to issue commands to the rest of your teammates to support you through various plays whether you want to pick and roll or set yourself up for a three pointer. Free throws are executed via tilting. You tilt the phone back toward you, then flip it forward. How straight you were able to flick the phone backwards and forward controls your accuracy.
The free throw tilt mechanic felt a little gimmicky, but penalties seemed rare enough that shooting free throws likely won't be a main part of the game. One thing that really piqued my interest during my discussions today with EA was the inclusion of unlockable NBA legends. Buried deep inside of the game are NBA greats like Larry Bird, Magic Johnson, and others.
The following gameplay video is from EA's latest build of NBA Live, it's still a work in progress, so try not to pass final judgment on the game based on what you see here:
Overall NBA Live is working up to be a very promising title for basketball fans. EA was reluctant to give a firm date on when they expect to have the game ready for release, but were hopeful that it will be in gamers' hands later this fall.