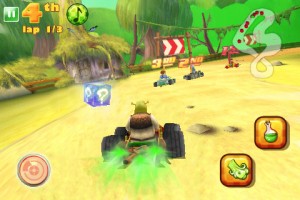 The battle of the iPhone Kart racers continues with the release of Shrek Kart [App Store] to the App Store.
Shrek Kart contains 10 different karts, 11 different powerups, 15 tracks, single player and arena modes. There is local 6-way multiplayer but no online play. While it might have been an instant purchase in the past, the recent release of Konami Krazy Karts and surprise release of online multiplayer Cocoto Kart might make your decision harder.
Here's a hands on video:
We'll provide a closer look after we've had some time with the game, but early impressions are being collected in our forums.
App Store Link: Shrek Kart, $4.99