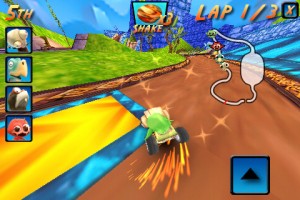 iPhone developer Eurocenter has applied their expertise in online gaming to a new Kart racer called Cocoto Kart Online. Eurocenter is a 20 year old company that has had decades of experience with multiplayer games and since 2008 has been working on the iPhone. Their previous online games have included Ace Tennis, Adrenaline Pool and the frantic deathmatch game DinoSmash.
This time Eurocenter teamed up with Neko Entertainment to port their Wii/DS title Cocoto Kart Racer to the iPhone. This Mario Kart-alike features 10 tracks with 12 unique animated drivers. Most notable, however, is the addition of online multiplayer with both racing and battle modes.
Neko Entertainment and Eurocenter teamed up to bring the most console-quality like kart racer to the iPhone and iPod touch. Drive in volcano worlds, in the sky, up in the trees, slide on ice, use turbos, take shortcuts by jumping over platforms. 12 unique drivers are fully animated. The online mode includes multiplayer races and battle mode where you try to shoot the opponents 3 times.
The developer shows the game in action:
The game has generated quite a following in our forums and our brief time with the game has demonstrated a really great online experience. Our matches tended to find other players quickly, and even when it didn't, it allowed me to play single player while it kept looking. Game controls offer both touch and tilt steering with auto-acceleration optional. Collected power-ups are triggered by shaking the device. While this sounds unappealing at first, only a slight jiggle is really required as shown in the video.
Predictably, reviews of the Wii/DS version were handicapped with unavoidable comparisons to Mario Kart which is also available natively on those platforms. But for the iPhone platform, online multi-player Kart racing for $0.99? Seems hard to go wrong.
App Store Link: Cocoto Kart Online, $0.99 (Launch price)