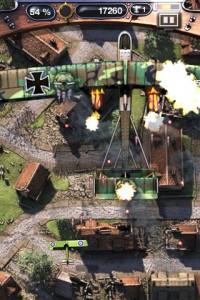 Richard Wilson released a nice vertical shoot 'em up tonight with SkySmash 1918. The $0.99 game offers 9 levels of very nicely drawn artwork in which you pilot an aircraft against enemy fighters, defenses and even boss enemies.
The game follows the vertical shoot 'em up formula pretty closely, and offers scattered power-ups that can invoke gun upgrades, bombs, temporarily invincibility and more.
The game's 9 levels are offered in a progressive unlocking manner, meaning you can replay any level you've reached. Each level seems to stand alone, however, as no power-ups carry over from the previous levels. This allows you to try to progressively make your way through levels without much penalty from starting anywhere. The local high scores, however, are tabulated as a cumulative score rather than being level specific. The game also offers a bit of a mix of level objectives, departing occasionally from the standard "destroy %% of the enemy" goals.
Controls are entirely touch with a double-tap invoking your special power-up weapon. There is also a toggle to allow for relative control where the ship moves relative to your finger movement, rather than sitting right under your finger at all times.
Forum user beldandy561 shared detailed thoughts that we felt were an accurate reflection of the game. While finding it impressive for $0.99, he felt there was a bit of a lack of variety of boss enemies as well as some significant difficulty ramp up across the normal difficulty levels. The game does, however, offer 3 modes of difficulty (easy, normal and hard).
At $0.99, SkySmash 1918 offers a solid challenging shooter with some nice touches.
App Store Link: SkySmash 1918, $0.99