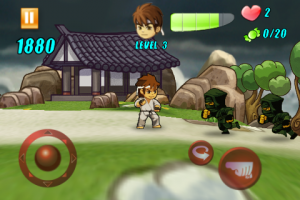 iPhone developers Neptune Interactive and Smells Like Donkey have teamed up to create a casual fighting game inspired by classics like Street Fighter and Karateka.
Readers may remember Neptune Interactive as the creator of 7 Cities [$2.99] while Smells Like Donkey is most famously known for iJiggles [99¢].
Tap Fu is a fighting game that features story and survival game modes along with training and free play. The default control scheme utilizes gestures and taps to move your character around and fight the onslaught of evil ninjas that are attacking you. A virtual D-Pad control scheme is also included.
Meanwhile, the combat in Tap Fu is spiced up by adding a combo system as well as style points that have been seen before in other games, notably the Devil May Cry series. Tap Fu will initially come loaded with the "Ninjas of the SweetTooth Clan" chapter and the developers have plans to implement more content over time. The game also comes with online leaderboards and achievements.
The video shows a very nice look at the combat hands-on:
Tap Fu was recently submitted to the App Store, so assuming no approval delays, it should be available for download inside of two weeks.