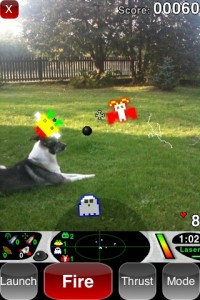 With the release of iPhone OS 3.1, developers are now allowed to produce augmented reality (AR) apps for the iPhone. We first covered this technology on the iPhone back in March, when we met with game researcher Blair MacIntyre about his work in the field.
Augmented Reality is described as a combination of real-world and computer-generated data, where computer graphics objects are blended into real footage in real time.
Unfortunately, at the time, the iPhone SDK prevented full exposure to the proper APIs required to implement it. All that changed with iPhone 3.1.
Several developers seem to be working on Augmented Reality applications, with several attempts at games. Chillingo has revealed that they are bringing Toyspring's Arcade Reality AR game to the iPhone. Arcade Reality was first released for the Palm Treo and offers a number of game modes:
Arcade Reality – the main mode, featuring the first person perspective shooting scored for precision, interleaved with the special "bonus levels"
Infinite Shooter – simple shooter without sophisticated goals, just kill everything that moves
Asteroids Mode – 3D version of the well known game. Steering the spaceship feels similar to an RC toy – you must figure out which side is "left" or "right" depending on the current orientation
Video from the Palm Treo version shows the basic gameplay, demonstrating the overlaying of video game graphics on real life surroundings.
Meanwhile, Freeverse has recently released a simple AR app called Fairy Trails [$0.99] which offers a bit of a tech demo, and Yelp recently included an early version as an easter egg.
We'll be interested to see how Arcade Reality actually plays on the iPhone as well as seeing what else the future might hold.