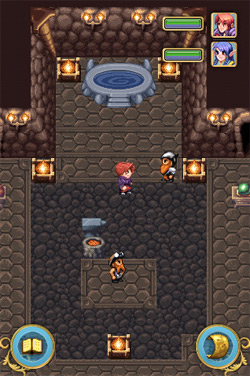 Mobile developer Big Blue Bubble has released an iPhone version of its popular mobile turn-based role playing game Elven Chronicles [link], winner of the Pop Vox awards, through the App Store.
Turn-based RPGs, such as SoMoGa's popular Vay, are few and far between in the App Store.  And so, if our forum readers' reactions are any indication, iPhone RPG fans may find fondness with this release, reworked from its mobile original for the more capable iPhone platform.
Features as listed by the developer:
Classic Console RPG design
Massive World Maps
Captivating Story
Countless Spells, Weapons, Armour and Accessories
Random Dungeon Maps
Stunning Characters and Scenery
Over 20 hours of Gameplay
Pocket Gamer spoke with Big Blue Bubble regarding the challenges faced in porting the game to the iPhone platform.
…We ported the game from BREW using our own code converter tools and the iTorque engine. This port went very smooth and we had a playable game in a matter of days.

Re-doing all the art took much longer than anticipated and we had to put several artists on the project. Also, as we didn't have the same memory limitations as on the cell phones, it was hard to resist adding more art content so this took some time as well.

Finally, we had to re-do all the controls and menu system. Even though fully functional, it just didn't feel right. This is last thing we need to complete before sending the game to Apple.
The studio indicates that they have their ear to the ground and updates, including expansion packs, will be forthcoming, including features added via microtransactions.
Elven Chronicles is currently being offered at a limited time, introductory price of $3.99.
See the developer's game trailer for a closer look.
App Store Link: Elven Chronicles, $3.99 (limited time)