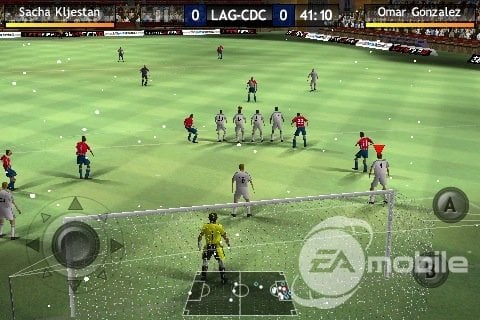 EA held a special media event for several French iPhone sites on Monday night and showed off a build of FIFA 10 for the iPhone. Les Mobiles posted an actual hands on gameplay video and it looks pretty damn nice.
The game is controlled with an analog stick on the left with A/B buttons for actions. The player in the video can be seen tapping on their team characters to change control/focus.
iPhoniacs.fr described their time with the game. They found the menu system well organized. The welcome menu gives a choice of playing a Quick Match, accessing Career Mode, Wi-Fi mode, various other little games and allows the user to adjust the settings.
The game is said to have intuitive commands that are easy to learn. There is both Joystick or Accelerometer control. The accelerometer takes some getting used to and can be difficult to control the direction of movement. The two buttons are A for passing, B for receiving. Swiping from A to B results in a long-pass.
iPhonezine.fr reports only local Wi-Fi with a local Bluetooth mode coming in a future update. They specifically say 3G online play is not currently planned.
Finally, EA has
posted a data sheet
and App description of the game:
REAL LEAGUES. REAL TEAMS. REAL PLAYERS.
Match 30 leagues, 570 teams, and 12,620 players from around the world. Play up to 20 licensed tournaments and cup competitions.

"BE A PRO" MODE: A FIFA 10 EXCLUSIVE!
Create your own future superstar — ONLY with FIFA 10 by EA SPORTS™. Track his play in multiple seasons. Earn skills in competition against the world's finest soccer players, and build your legend!

CONTROL THE GAME WITH FINGERTIP EASE
Easily dictate tempo with the accelerometer. Pull off defense-splitting passes, rifling shots, and pro-style tricks with intuitive touchscreen controls.

TRUE SIGHTS AND SOUNDS
Hear the roar of sold-out stadiums, and catch close-up the pride and passion on the field, from team presentations to goal celebrations. View from 6 angles, plus the "Be A Pro" camera. All in 3D.

TURN UP THE COMPETITION
Access Local WiFi Multiplayer Mode for friendly head-to-head action. Test your skills vs. your personal rivals.

PICK UP AND PLAY. ANYTIME, ANYWHERE.
From Barcelona to Brazil, manage the world's best, and play for prestige and glory. Load in seconds and get ready for action!
The game is expected to be launched around October 1st.
Thanks WunDaii and dazzyk