Namco Bandai has a demo version of their upcoming game Ace Combat Xi on the floor of the Tokyo Game Show. Several reports are coming in from those who have had hands on time with the title. The Ace Combat francise has been around since 1995 with versions of the game appearing on the Playstation, Playstation 2, Xbox 360, and PSP.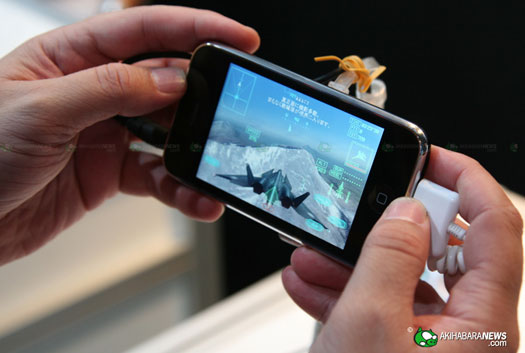 Akihabara News reports the game was "fantastically smooth and easy to play". While the game was demoed on an iPhone 3GS, Namco says they are working on delivering a good experience on the 3G as well.
IGN's Mark Bozon, a huge fan of the Ace Combat series, felt the game succeeded in encapsulating the franchise:
iPhone Ace Combat plays pretty much how you'd expect it to, but for a series that's as huge on control and precision as Ace Combat it's awesome to see that Project Aces managed to squeeze all the controls from the main game into the tiny platform.
Despite the small size of the elements on the screen, Bozon reports the buttons were 100% accurate. Tilt controls were solid but no options for sensitivity were found on this build. The demo mission offered to TGS attendees was a basic dog-fighting round. In the end, the game was described as looking "very, very, good".
Finally, +D Mobile was able to get some photos of the control setup: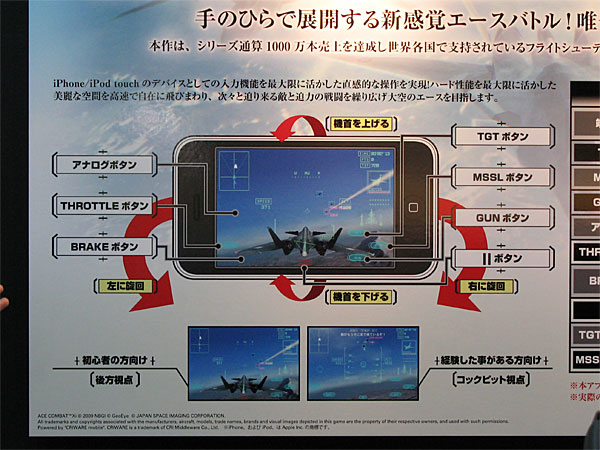 And even managed to get video of the game in action:
There's still no indication when the game will be released.