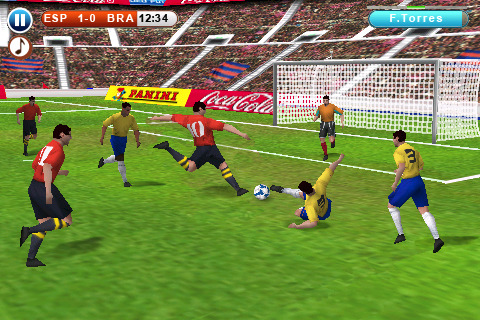 Gameloft's Real Soccer 2010 is now available both Internationally and in the U.S. The game first appeared in international App Stores just a few days ago as Real Football 2010 with the U.S. version finally arriving tonight. The game, of course, is a followup to Real Soccer 2009 which was well received at the time. Gameloft has since added more content, better controls, online multiplayer and YouTube uploads of replays.
The early impressions from International adopters of the game found that the controls were indeed much enhanced, but early online multiplayer games have been laggy, from Metzas:
-The game is indeed improved from last year, but not in a major way. It is still in essence a dumbed down PS1-era Pro Evo clone.
-The controls are greatly improved. No fixed digital controls any more, the players run accordingly depending on the position of the analog stick and in all they feel smooth.
-The online experience so far has been disapointing. Having played 3 matches so far, each and every one of them had so much lag it was practically non playable (at least not enjoyable) so at this point at least, I wouldn't position the mode as a counterpoint to other app store offerings.
We'll have to spend some time with the U.S. version to see if this issue persists with the online play in the U.S. A sample of the uploadable YouTube replays can be seen here:

App Store Links: Real Soccer 2010, $6.99 (U.S.), Real Football 2010 (International)