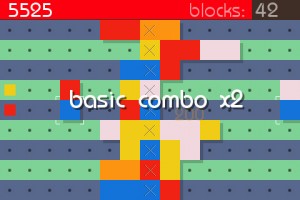 Indie developer Zach Gage has really gotten our attention. Gage's first iPhone application SynthPond [$1.99 / Lite] was a creative music application that can generate some very interesting results (video). His second iPhone application is a game that is a true multi-touch puzzle game that requires quick thinking and multitasking in order to succeed.
Unify is structured as a cross between Tetris and color matching games but with a multi-touch twist. Differently colored blocks "descend" towards the center of the screen from both sides. Simple touch controls allow you to move the pieces up, down or towards the center while tapping rotates them.
The combination of moves is pretty natural in practice but effectively lining up combos requires a bit more planning. The developer's gameplay video shows the game in action:
The game comes with a "normal" mode which is 40 evolving levels with added colors and progressive music. Also included are 3 endless modes (easy, medium, and hard). Unify also supports OpenFeint to provide global high scores.
Our primary criticism of the game might be that some of the background colors in the center bar can make it hard to distinguish blocks from empty spaces. There have also been some early crash reports, though we haven't experienced these ourselves, but the developer is active in the discussion forum and is working to address the issues.
Those looking for a different kind of iPhone puzzler, should definitely give Unify a try.
App Store Link: Unify, $0.99