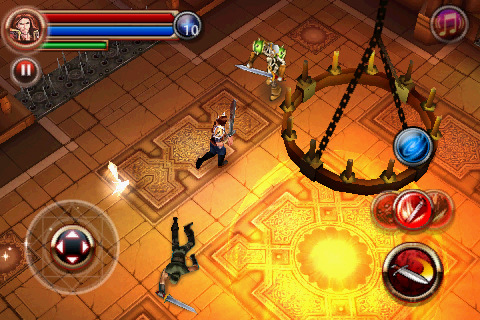 Gameloft's Diablo-like action RPG Dungeon Hunter [$6.99] has arrived in the App Store tonight.
We had some hands on time with the game last month. Although we only had a brief amount of time with the game, it certainly seemed like a very solid take on the formula.
On-screen controls once again are utilized, with a virtual D-Pad controlling movement and a series of buttons that handle your attacks and magic. Three classes are included that each have slightly different strengths, weaknesses, and abilities. Dungeon Hunter plays a lot like Pixel Mines' Underworlds, in 3D, and could potentially have quite a bit of replay value as you play through the game as a knight, then a rogue, and finally as a mage. Also, along the way you will collect different fairies that assist you on your adventures, each providing a different offensive and/or defensive bonuses.

[ Full HD version | Low Bandwidth version ]
The game description promises an enormous world with different types of quests and missions, tons of items, weapons and armor, and hours of gameplay. Early impressions are being collected in our forums, and we'll post more once we've had more time to put the game through its paces.
App Store Link: Dungeon Hunter, $6.99
Update: Gameplay video updated with a much higher quality version.
Update 2: Dungeon Hunter is no longer available for download, we're waiting for a comment from Gameloft but judging by our forums it likely is a result of a crash bug when loading a certain level of the game.
Update 3: Gameloft offers the following comment on the situation: "Dungeon Hunter was momentarily removed from the AppStore, an update will be live very soon."